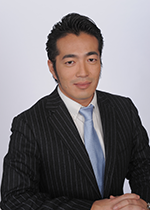 Mr. Ono is the CEO of ia inc, a management and financial consultancy firm. Mr. Ono has worked as a management consultant for A.T. Kearney, NRI and UFJ institute where he was involved in strategy practice. With rich experience in business strategy development for manufacturing and service industry, and also marketing strategy and business and operational restructuring, he provided a range of support for companies trying to establish global competitiveness. Mr. Ono was the former CEO of Livedoor Marketing (Former subsidiary of NSDQ:VCLK, currently re-listed to Tokyo mothers stock exchange as So-net Media Marketing) and private advisor for Johnson Controls inc. of US and Dynam Holdings.
He holds master degree in Accounting and Finance from London School of Economics and Political Science (LSE)
Publications include "Pocket MBA in Management", "Pocket MBA in Marketing", the both published from Sogo Horei, Tokyo, Japan.